Byron Moldo to Speak at NAFER 2019 Annual Conference
Can That Be Included Too? Expanding the Scope of the Receivership.
10.18.2019
Location: Scottsdale, AZ
Event Sponsor: National Association of Federal Equity Receivers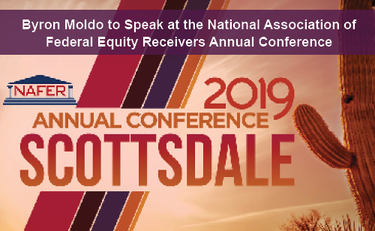 Byron Moldo, Partner and Chair of Ervin Cohen & Jessup's Bankruptcy, Receivership, and Creditors' Rights Department, will be speaking on a panel at the National Association of Federal Equity Receivers (NAFER) 2019 Annual Conference in Scottsdale, Arizona, being held October 17-19.
Byron's session, entitled "Can that be included too? Expanding the scope of the Receivership," will discuss theories, strategies and tools for receivers, including the remedy of substantively consolidating receivership entities; and generally expanding the scope of the receivership estate to include other entities or persons.
Presentation Speakers
Kristina Johnson, Jones Walker
Byron Moldo, Ervin Cohen & Jessup LLP
Jesus Suarez, Genovese Joblove & Battista P.A.
Neville Reid Fox, Swibel, Levin & Carroll, LLP (Producer)
NAFER is a preeminent organization for professionals who work in the area of receivership, insolvency, bankruptcy, restructuring and international asset recovery. The organization is dedicated to providing receivership education and networking opportunities for receivers and their professionals.