Seasoned Attorney Blake Alsbrook Joins Ervin Cohen & Jessup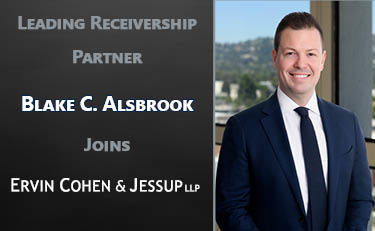 Ervin Cohen & Jessup is thrilled to announce that Blake C. Alsbrook has joined its Bankruptcy, Receivership and Creditor's Rights practice.
"The addition of Blake positions our Firm as the preeminent receivership/referee practice in Southern California," said Byron Z. Moldo, a member of the Firm's Management Committee and its Bankruptcy, Receivership and Creditor's Rights practice. "Blake's experience, including his time practicing with the late David Pasternak, will be a tremendous resource to our clients."
Blake acts as a receiver and as legal counsel for prominent receivers throughout California. He also provides legal counsel for and serves as a partition referee, successor trustee, and provisional director in matters involving property and business disputes. In addition to advising fiduciaries on the impact of California and federal law on their practice, Blake has significant civil litigation experience defending and prosecuting actions on behalf of receivers and businesses, and regularly practices and argues before State and Federal Courts throughout California, including the California Courts of Appeal and the United States Bankruptcy Court.
Blake closed his previous firm and joined Ervin Cohen & Jessup upon the passing of his late law partner, David Pasternak. Alsbrook currently serves on the Board of Directors for both the California Receivers Forum and the Los Angeles County Bar Association Remedies Section. He earned his B.A. at the University of California, Santa Barbara and his J.D. at the University of Michigan Law School.
PDF
Professionals
Practice Areas