Internal Investigations in a (Semi) Virtual World
04.22.2021
Location: Virtual Seminar
Seminar Time: 9:30 AM - 11:00 AM
Event Sponsor: Ervin Cohen & Jessup LLP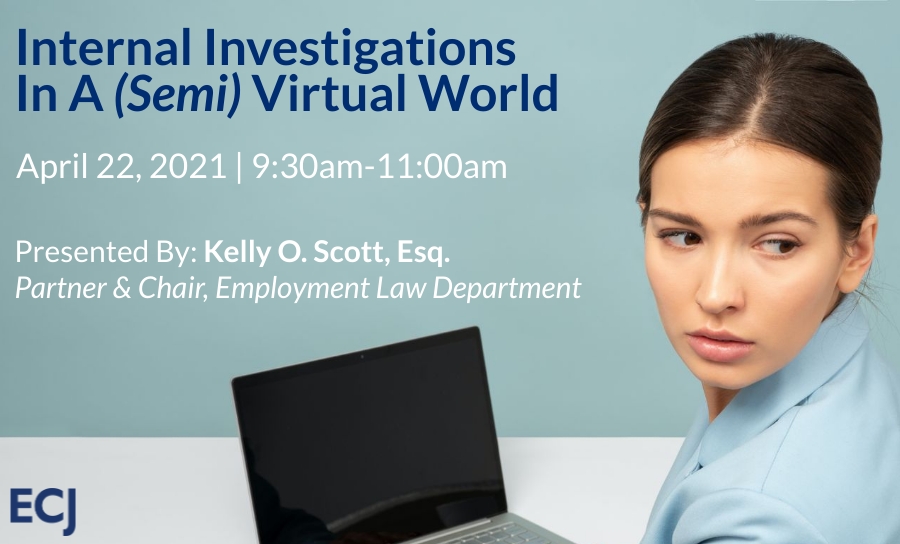 Throughout 2020, the number of employees who transitioned to working remotely skyrocketed. But physically distancing the workforce did not eliminate claims of discrimination, harassment and retaliation.

Employers, who have already made significant adjustments in how they manage and interact with their employees, must give further considerations to the procedure of conducting internal investigations as required under the FEHA. These regulations require that all California employers with five or more employees address allegations of misconduct through fair, timely and thorough investigations, and that the investigations be conducted by qualified personnel trained in the art of conducting an investigation.

Join ECJ for a virtual employment law seminar that will guide you through all of the steps and considerations of an effective – and legally compliant – internal investigation.
Thursday, April 22, 2021
9:30am - 11:00am
Presented by:
Kelly O. Scott, Esq.
Partner and Chair of ECJ's Employment Law Department
A Zoom link will be provided with completed registration.
PDF
Professionals
Practice Areas