COVID-19 Vaccinations: Don't Make Yourself Sick!
02.18.2021
Location: Webinar
Seminar Time: 3:00 PM - 4:00 PM PST
Event Sponsor: Beverly Hills Chamber of Commerce & City of Beverly Hills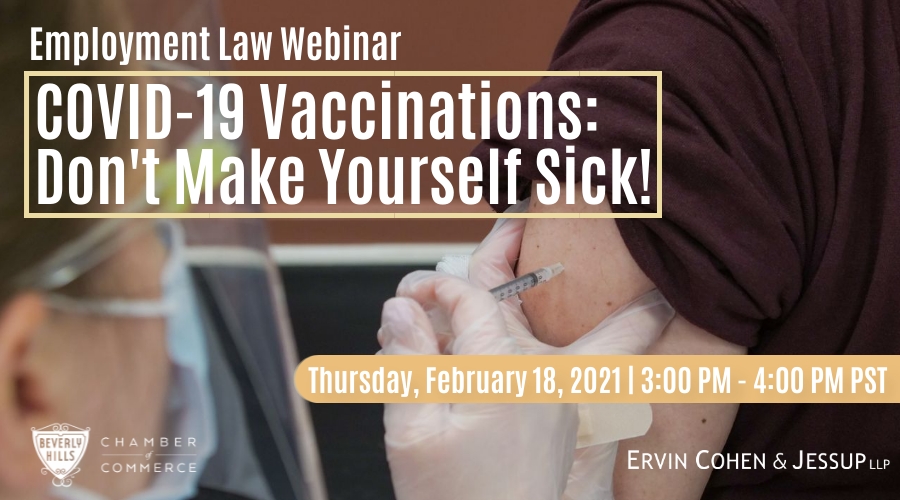 Watch out COVID-19, vaccines have arrived! With California beginning to administer vaccinations to eligible recipients, now is the time to educate yourself about best practices for protecting yourself and your business.
Join Kelly Scott, Partner & Chair of ECJ's Employment Law Department, for a special webinar on what businesses need to know regarding the COVID-19 vaccines. This complimentary event, being presented in conjunction with the Beverly Hills Chamber of Commerce and the City of Beverly Hills, will discuss:
Whether you can require employees to be vaccinated;
What questions to ask - and not ask - of employees as the COVID-19 vaccine is rolled out;
Whether employers can administer vaccinations; and
What to do if employees refuse.
Thursday, February 18, 2021
3:00 PM - 4:00 PM

Presented by:
Kelly O. Scott, Esq.
Partner and Chair of ECJ's Employment Law Department
PDF
Professionals
Practice Areas