Ervin Cohen & Jessup LLP Welcomes Mayer Nazarian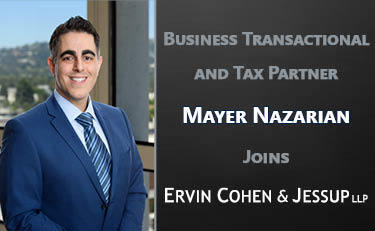 Ervin Cohen & Jessup LLP is proud to announce the addition of Mayer Nazarian as a Partner in the Firm's Business, Corporate and Tax Practice.
Mr. Nazarian is a business transactional and tax attorney proficient with local, regional, national and international tax issues. He advises clients on business planning and business transactions with particular attention to the tax aspects of the business acquisition, sale or dissolution. Not limiting his counsel to tax competence, Mr. Nazarian takes a holistic approach and recognizes that factors like estate and trust planning, business transactional, real estate, employment and family law may need to be addressed as well.
Mr. Nazarian joins Ervin Cohen & Jessup from CKR where he was a partner and chair of the Tax Department in the Los Angeles office. Nazarian began his career as a tax professional with the accounting firm of Holthouse, Carlin and Van Trigt, LLP and went on to become a tax manager with Deloitte Tax, LLP. He then started his own law practice, which later merged with a tax and estate planning firm in Los Angeles. He is fluent in five languages, earned his B.S. at UCLA, his J.D. at USC's School of Law and his M.B.T. at USC's Marshall School of Business.

Mr. Nazarian can be reached at 310.287 .6323 or MNazarian@ECJLaw.com.