Insurer Duty to Defend Biometric-Related Statutory Violations: Triggers, Standing, Pleading, Exclusions
07.12.2022
Location: Webinar
Seminar Time: 10:00am-11:30am PDT
Event Sponsor: Strafford Publications, Inc.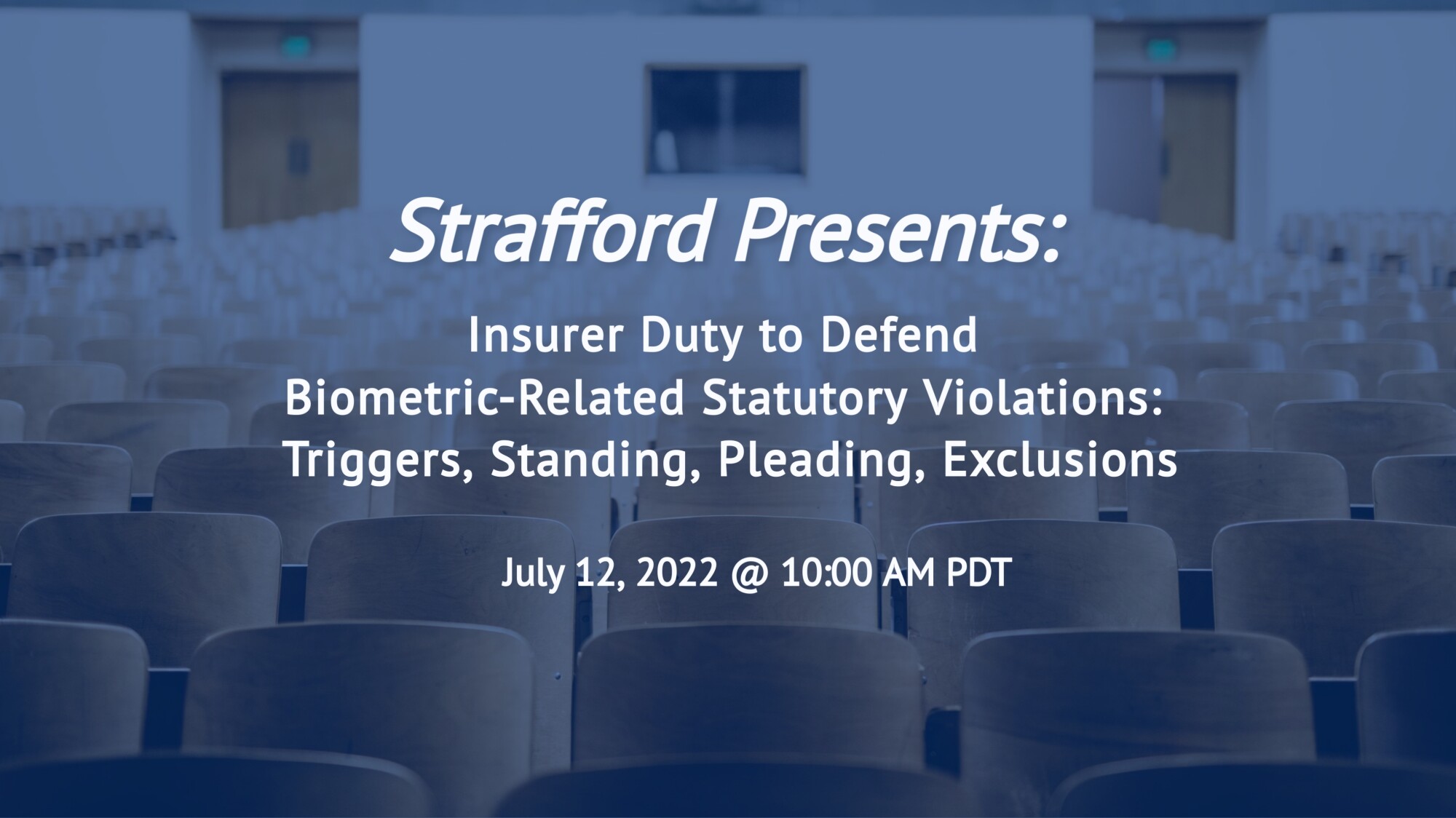 Join ECJ Partner Peter Selvin for the upcoming Strafford live video webinar, "Insurer Duty to Defend Biometric-Related Statutory Violations: Triggers, Standing, Pleading, Exclusions" scheduled for Tuesday, July 12th 10:00 am-11:30 am PDT.
This CLE webinar is about when and how liability insurance of various kinds will give rise to the duty to defend alleged violations of statutes regulating the collection and disclosure of biometric-related information, including fingerprints, facial recognition, voice recordings, and even keystroke patterns. The panel will explore theories of coverage, relevant exclusions, and how plaintiffs are pleading into, if not indemnity coverage, at least the duty to defend.
Description
The year 2021 was another important one for biometric privacy, and counsel for insurers and policyholder defendants are bracing against the onslaught of lawsuits and the search for coverage. Businesses faced with such lawsuits have turned to their liability insurers for defense, and recent decisions suggest a roadmap for alleging and finding an obligation to defend.
Coverage for violation of biometric-related statutes and regulations is a national issue. The Federal Trade Commission (FTC) announced its intent to aggressively police the use of facial biometrics for the foreseeable future. Illinois, Texas, Washington, and California have statutes regulating biometric information. Many states, including Kentucky, Maine, Maryland, Massachusetts, New York, and West Virginia, are weighing bills with a private right of action. Many cities also have ordinances that regulate the use of biometrics and provide private rights of action, allow class litigation, and authorize statutory damages for noncompliance.
Claims arising from collecting and disclosing biometric data raise novel coverage questions under liability insurance policies and their exclusions.
Speakers
Peter S. Selvin, Ervin Cohen & Jessup LLP

Cort T. Malone, Anderson Kill
PDF
Professionals
Practice Areas